Bomani is famous for its unique scenery as well as its large herds of elephants, mammals and bird life resident in Hwange.
This luxurious tented lodge is situated in a private concession of the magnificent Ngamo Plains, on the edge of the remote and unspoiled south eastern corner of Hwange National Park.
---
Hwange National Park, named after a local Nhanzwa chief is 14,650 sq km in size and is the largest national park in Zimbabwe. Located in the northwest corner of Zimbabwe about two hours south of Victoria Falls.
Hwange boasts a huge selection of wildlife with over 100 species of mammals and 400 species of birds. The elephants of Hwange are world famous and are one of the largest populations in the world.
---
Location
Bomani Tented Lodge is approximately 4-5 hours by road from Victoria Falls.
Why not travel to Bomani Tented Lodge in style aboard The Elephant Express, a 2 hour rail journey from Dete Station to Ngamo Siding.
Price from per person twin share – USD
| Season | Twin Share |
| --- | --- |
| 01 May to 31 Dec 2022 | From USD 2,370 per person |
| 01 Jan to 31 Dec 2023 | From USD 2,480 per person |
| 01 Jan to 31 Dec 2024 | TBA |
4 Night Package Inclusions:
Meet and greet at Victoria Falls airport by Wild Africa Travel Company representative
Road transfer from Victoria Falls airport to Bomani Tented Lodge
4 nights accommodation at the 4 star Bomani Tented Lodge in a deluxe safari tent
All inclusive meals and local beverages
Daily guided open vehicle game drives, night game drives and walking safaris in Hwange National Park
Laundry
Road transfer from Bomani Tented Lodge to Victoria Falls airport
Enquire about our stay for 3, pay for 2 special from $1,950 pp/twin share*
*Valid from 1 March 2019 – 30 April 2019 and 1 November 2019 – 31 December 2019
**Please note Bomani Tented Lodge is seasonal and is closed from 1 January 2019 – 28 February 2019
Accommod

ation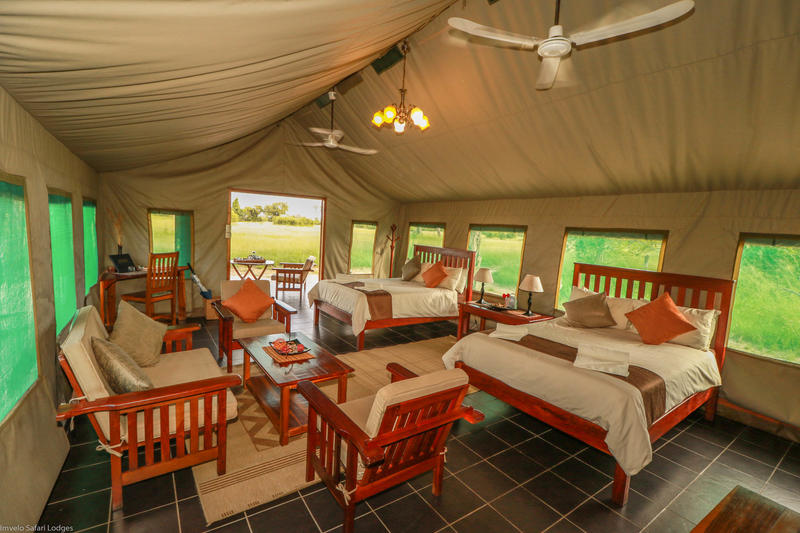 There are 11 luxury tents and one thatched family bungalow at Bomani, each overlooking the waterhole. Each room is comfortably furnished and designed to keep out all creatures great and small. All the tents have ceiling fans, a private en-suite bathroom, hot running water and electricity by diesel/solar generator.
---
Facilities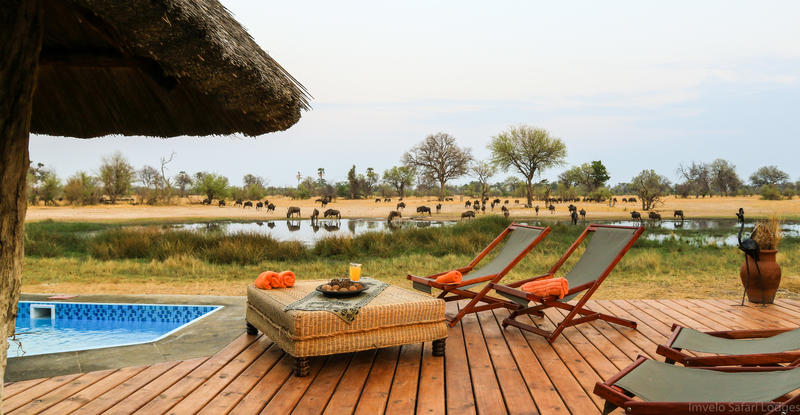 Relax and take in the views of the nearby Bomani Pan from the Main Lodge. Enjoy a drink from bar or take a dip in the private pool. Stay in touch with loved ones at home with complimentary WiFi in the main guest area. This wild and unspoiled bush paradise will guarantee you leave with memories to last a lifetime.
---
Activities
Game Drives
Morning and afternoon game drives are conducted by experienced guides in open safari vehicles, accommodating up to 9 guests. On your morning game drives pause to enjoy tea, coffee and biscuits and in the afternoons cool drinks and cooked snacks will be provided. Due to the remote location of Bomani Tented Lodge you will seldom see another vehicle and will receive spectacular insight into the wildlife and environment unique to this part of the park.
Game Walks
Usually undertaken in the morning, game walks are an excellent option for photographing big game.  Game walks are conducted by a fully licensed and highly experienced armed professional guide. In this remote and wild area every walk provides fascinating insights into Hwange's circle of life; experience all of Hwange's wildlife from elephants shaking acacia trees to loosen and then eat the pods to dung beetles rolling up elephant dung containing acacia seeds into balls and burying the balls ready for the seeds to germinate and grow into new trees.
Night Drives
Experience the spectacular night time scenes oh Hwange by joining a night drive. Conducted on the lodge's private concession, trackers operate powerful spotlights to seek out some of the less-seen animals. The light's red filter lessens the disturbance, thus creating a unique opportunity to view some of Hwange's nocturnal residents. Highlights include  porcupines, springhares, genets,  ant bears, pennant winged nightjars and lesser bushbabies.
The Look up Game Viewing Hide
Get up close an personal with big game in one of the waterhole viewing hides at Bomani. Perfect for the keen photographer, the 'look up game viewing hide' at Stoffie's Pan inside the park has been called the best in Hwange.
All Day Drives and Pump Runs
There are no major rivers supplying water to any watering holes in Hwange National Park. During the dry seasons wildlife has subsisted here on water originally pumped by windmills and more recently replaced by diesel engines. In the southern sector of the Park, Imvelo Safari Lodges shoulders the responsibility for 15 pumped waterholes, approximately 20- 25% of the waterholes that sustain Hwange's wildlife.
The engines require diesel, oil and monthly services and the pump attendants who operate them require rations and pay. A popular activity is to take an all day trip into the Park visiting the waterholes to drop off fuel and oil for the motors as well as rations and supplies for the pump attendants. A picnic lunch is then enjoyed near one of the waterholes followed by a leisurely game drive back to the lodge in the afternoon. Our Pump run usually ends with sundowners at one of the waterholes close to camp. Please note this activity only happens in the dry season when the water is pumped (usually between June – October). In the green season an all-day game drive can be enjoyed roaming across a huge section of the park stopping for a picnic lunch and siesta under a cool tree near a lily-covered pan.
Village Visits and School Tours
The team at Imvelo Safari Lodges are deeply committed to bringing together local rural communities and safari guests, for their mutual benefit. Just a twenty minutes drive from the lodge guests have the opportunity to enjoy an un-orchestrated look at village life in rural Matabeleland. Hosted by a local guides, it is a fascinating tour of typical daily village life. It is followed by a visit to one of the nearby schools, hosted by the Headmaster, guests are given the opportunity to hear traditional songs sung by the children and enjoy a 'class interaction'. This great opportunity is encouraged by our teachers as it is a wonderful way for the school kids to meet people from all over the world and learn about different cultures and countries. **School tours cannot be conducted during school holidays
Daily Horse Safari Rides
The open grasslands and forest groves of the Ngamo Plains around Bomani Lodge are among the most scenic areas of Hwange, this special scenery is ideal for horse-riding and several activity options have been designed for riders of different experience levels.
All rides are led by qualified and experienced guides and trackers. The pace is tailored to the riders experience and determined by safety and terrain. It is mostly fast walking and trotting, in open areas we will canter and gallop where possible.
Typically between 2 and 4 guests can join an activity; breaks with refreshments are carefully planned to rest both horse and rider.  We offer 1 ride for beginners and 4 rides for intermediate to advanced riders. Please note, there is a weight restriction of 90kgs and children under 16 years of age are not permitted (children 7 years and older are allowed on the Beginner Bush Experience).
---
If you wish to extend your stay in Hwange National Park, consider staying at the remote Jozibanini Camp. This small, exclusive camp in a in a remote area of the park will provide a unique, untamed wilderness experience.