Situated in one of the last remaining unspoiled acacia woodlands on the southern edge of the Ngamo Plain, the flagship Camelthorn Lodge offers a truly memorable safari experience. 
The centerpiece of this beautifully designed lodge is the huge ancient Camelthorn tree that spans the 35 meter dining area, making this the perfect spot to enjoy your evening meal or morning coffee.
---
Hwange National Park, named after a local Nhanzwa chief is 14,650 sq km in size and is the largest national park in Zimbabwe. Located in the northwest corner of Zimbabwe about two hours south of Victoria Falls.
Hwange boasts a huge selection of wildlife with over 100 species of mammals and 400 species of birds. The elephants of Hwange are world famous and are one of the largest populations in the world.
---
Location
Camelthorn Lodge is located approximately 4-5 hours drive from Victoria Falls, on the south-eastern corner of Hwange National Park.
Why not travel to Camelthorn Lodge in style aboard The Elephant Express, a 2 hour rail journey from Dete Station to Ngamo Siding.
Price from per person twin share – USD
| Season | Twin Share |
| --- | --- |
| 01 May to 31 Dec 2022 | From USD 2,925 per person |
| 01 Jan to 30 N0v 2023 | From USD 2,935 per person |
| 01 Dec 2023  to 31  Dec 2024 | TBA |
4 Night Package Inclusions:
Meet and greet at Victoria Falls airport by Wild Africa Travel Company representative
Road transfer from Victoria Falls airport to Camelthorn Lodge
4 nights accommodation at the 4 star Camelthorn Lodge in a luxury villa
All inclusive meals and local beverages
Daily guided open vehicle game drives, night game drives and walking safaris in Hwange National Park
Laundry
Road transfer from Camelthorn Lodge to Victoria Falls airport
Enquire about our stay for 3, pay for 2 special from $2,440 pp/twin share*
*Valid from 1 March 2019 – 30 April 2019 and 1 November 2019 – 31 December 2019
Accommod

ation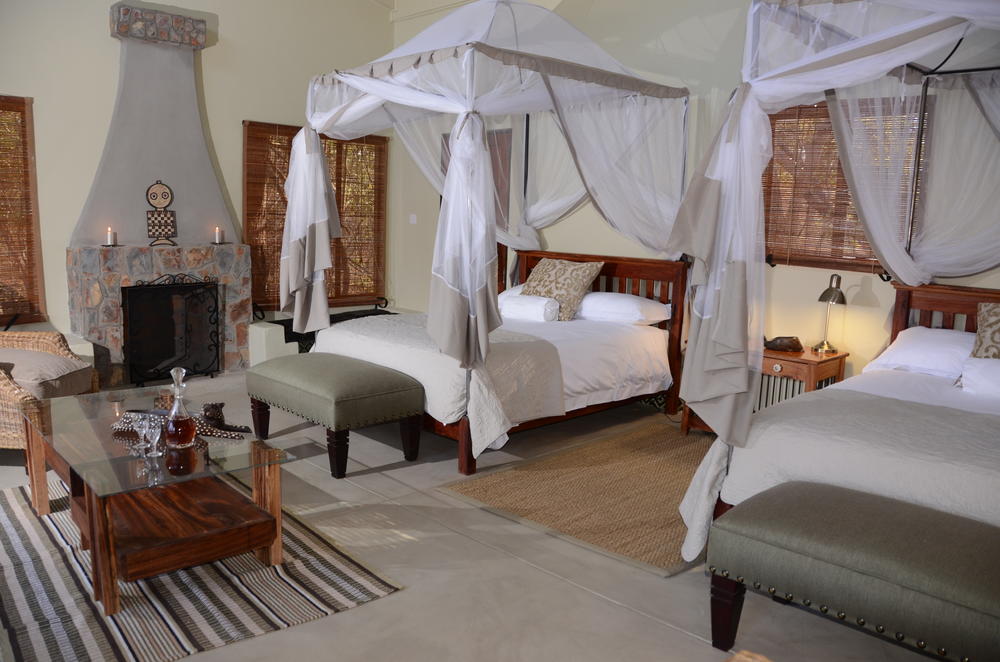 Guests will be accommodated in one of eight luxuriously furnished forest villas. each with a private en-suite bathroom with a bath and feature window overlooking the woodland, large shower, closed off toilet, fireplace, a private ground level deck, upstairs outdoor maisonette with hammock and day bed and electricity by diesel/solar generator.
---
Facilities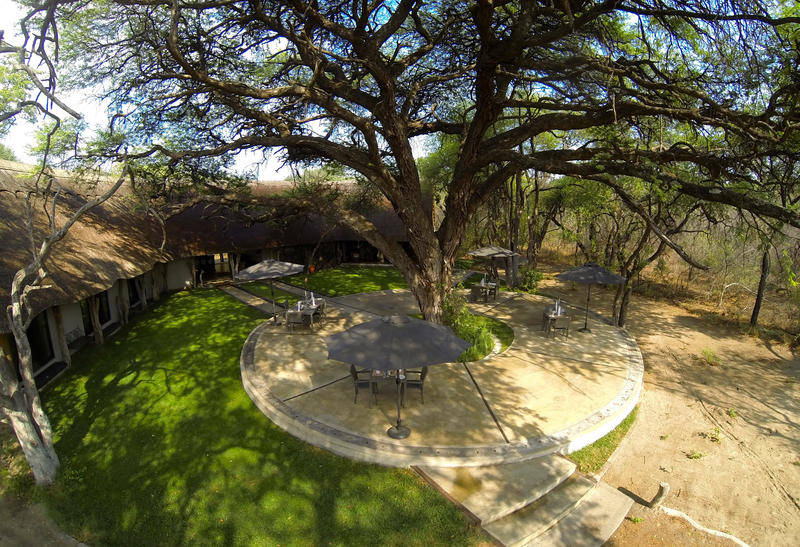 The Main lodge features free WiFi and cell phone reception and is a magnificent stone structure with thatch roof built in an open U around the lodge's splendid name-sake – the Camelthorn Tree. The Western wing is a closed in dining room protected from the elements featuring 3 fireplaces.The central portion of the main lodge is an open fronted reception area and lounge. The Eastern wing has open fronted bar and lounge area on a raised teak deck. Within the U lies an open patio area under the Camelthorn, ideal for enjoying leisurely brunches and candlelit dinners under the stars on warm evenings.
---
Activities
Game drives
Game drives at Camelthorn are structured to fit you, and are conducted by licensed guides in our specialised land rovers. On your morning game drive break you will be served tea, coffee and biscuits and in the afternoons, cool drinks and cooked snacks are served at sunset in front of a waterhole.
Game walks
Experienced fully licensed armed guides conduct game walks across the magnificent Ngamo Plains as well as deep within the fascinating and diverse woodlands that surround them. The perspective on foot changes dramatically, from close ups of Hwange's famous elephant, to eye-to-eye with small reed frogs – these game walks will provide memories for a lifetime!
Night drives
Whether conducted after returning from a sunset game drive, or after dinner when the lions are calling, a night drive using red filtered spot lights opens up a whole new world populated with species seldom seen in the daylight such as zorillas, selous mongoose and lesser bush babies and of course the thrill of driving at night amongst hunting predators is always a highlight.
All day drives and pump runs
Hwange National Park has no major rivers and for the past 70 years during Hwange's dry seasons wildlife has subsisted here on water originally pumped by windmills, but which were later replaced by diesel engines. The engines require diesel, oil and monthly services and the pump attendants who operate them require rations and pay. A popular activity is to take an all day trip into the Park visiting the waterholes to drop off fuel and oil for the motors as well as rations and supplies for the pump attendants. A picnic lunch is then enjoyed near one of the waterholes followed by a leisurely game drive back to the lodge in the afternoon. Our Pump run usually ends with sundowners at one of the waterholes close to camp. Please note this activity only happens in the dry season when the water is pumped (usually between June – October). In the green season an all-day game drive can be enjoyed roaming across a huge section of the park stopping for a picnic lunch and siesta under a cool tree near a lily-covered pan.
The Look up Game Viewing Hide
When Camelthorn Lodge was built deep in a patch of woodland, we didn't want to attract large numbers of tree hungry elephant, so we couldn't have a big waterhole in front of our new flagship lodge. But we still wanted a very special wildlife experience for our guests. About a kilometre (five minutes' drive) from Camelthorn we installed our elephant-proof hide at toe level and within splashing distance of the grey giants that drink here. It boasts a flush toilet and water on both the sunrise and sunset sides. Strategically positioned in the shade of a Leadwood tree and disguised as an antheap, the sheer thrill of sitting in our blind in safety and comfort close enough to elephant to count the cracks on their toe nails has surpassed every one of our expectations.
Village visits and school tours
Camelthorn is built on communal land and royalties and concession fees from bed night revenues are paid directly to the local community. These funds are used for community development, usually of schools and domestic water supplies. On visits to these local communities, Camelthorn guests are always afforded an especially warm welcome. Guests have the opportunity to enjoy an authentic look at village life in rural Matabeleland. A fascinating experience of a variety of typical daily village activities is followed by a tour of one of the nearby schools, conducted by the Headmaster, where guests are welcomed with traditional songs sung by the children and then are encouraged by the teachers to participate in a class interaction with the children.  This activity gives the school children a wonderful opportunity to meet and interact with people from all over the world who have come to see the wildlife amongst which they live. *Not available during school holidays
Daily Horse Safari Rides
The open grasslands and forest groves of the Ngamo Plains around Camelthorn Lodge are among the most scenic areas of Hwange, as well as being home to a variety of wildlife, big and small.  The landscape changes dramatically between the cooler dry winters and warm humid summers. This special scenery is ideal for horse-riding and several activity options have been designed for riders of different experience levels.  All rides are led by our experienced, qualified guides and trackers. The pace is determined by safety and terrain and is mostly fast walking and trotting. Where possible in open areas we will canter and gallop. We look at our riders' experience and tailor the pace accordingly. *Weight and age restrictions apply.
---
If you wish to extend your stay in Hwange National Park, consider staying at the remote Jozibanini Camp. This small, exclusive camp in a in a remote area of the park will provide a unique, untamed wilderness experience.